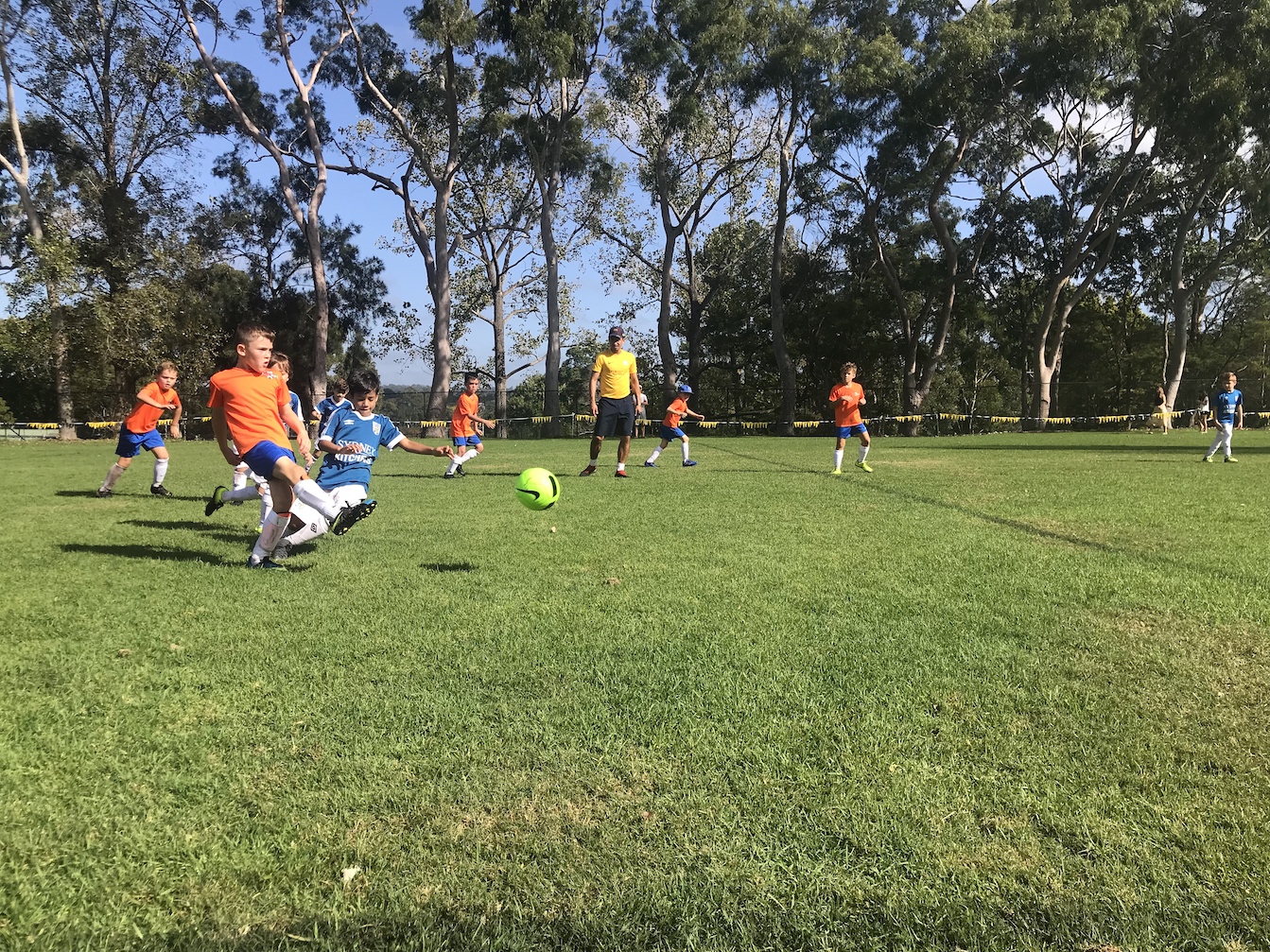 July Holiday Clinics
Monday 4th July 2022 – Monday 18th July 2022
Outdoors (with Indoors Wet Weather Contingency)
Our July School Holiday Clinics are now open for registration! Our Holiday Clinics have been specially developed to advance your child's football skills and keep them focused over the July holidays whilst in a fun and engaging learning environment. Choose between either our 3 hour coaching clinic (9am-12pm), or a 6 hour full day with an afternoon that is loaded with plenty of games and fun activities (9am-3pm).
Our Holiday Clinics feature:
Morning Coaching Clinic: Focuses on skill and technique development with a daily Football Focus. Your child will learn tricks, skills and moves surrounding this focus.
Full Days: Our full days include an afternoon of fun games and activities following our coaching clinic
Outdoors: All sessions will be held outdoors in Frenchs Forest, or in the case of wet weather, indoors
Wet Weather Contingency: In case of wet weather we will move our Holiday Clinics to an indoor venue in Frenchs Forest.
Quality Coaches: Professionally qualified & engaging FFA & AFC coaches
Tricks & Skills: Learn new tricks, skills and techniques to improve your overall ball mastery and game play.  We will teach you how to execute a 'Zidane Turn', 'The Socrates', 'Rabona', 'Maradona Spin', 'Cryuff Cut', 'Ronaldo Chop', or an 'Oxford'!
Limited numbers: This allows us to properly engage with your children and allows them to try out their skills against other players.
Creativity: Our clinics aim to enhance your child's creativity as a player with the freedom to play joyful and expressive football.
Confidence: Boost your child's confidence and self-belief in a nurturing and fun environment where they can improve their skillset.
Our Holiday Clinics are for 5-14 year olds, for both boys and girls! Coaching clinics are 3 hours in duration and focus on training your child's tricks and skills. Our full day option gives your child an afternoon filled with games and other fun activities until 3pm. We recommend that your child attends multiple days to best develop their football skills.
Children will be separated into age groups or ability and don't fret, just ask and we will group children with their friends!
Children are welcome to wear their club uniform or equivalent clothing suitable for play. For outdoors: outdoor boots are strongly recommended, shinpads are compulsory. For indoors: either indoor boots or runners are suitable, shinpads are compulsory.
COVID-19 Compliance
To ensure our Holiday Clinics run smoothly please ensure that you are following the latest COVID rules as announced by the NSW Government. In addition to the rules set by the government we would like to highlight the following requirements we have:
Food & Drink: All children must bring their own water bottle with them with enough water for each day. Children attending a full day must also bring their own food with them.
Drop and leave: We encourage all parents to minimise their time spent at sessions by dropping off and picking up children at sign in and sign out
Social Distancing: We ask all parents to observe social distancing rules when dropping off and picking up
Health: If any of a child's household members are feeling unwell, have cold or flu-like symptoms, are required to self-isolate, are awaiting a COVID-19 test, or have COVID-19, that child is not permitted to attend a session.
Subject to Change: Rules and restrictions by the NSW Government may change at any time. Ensure you follow government rules at all times, especially where additional restrictions apply. We may modify our requirements at any time accordingly.
HOLIDAY CLINICS MAKE-UP TERMS & POLICIES
The Football Factory does not offer make-ups for holiday clinics if you are unable to attend your scheduled session. If you are experiencing extenuating circumstances that would prevent you from attending your scheduled session, please notify us well in advance and we will discuss if we are able to make accomodations for you.
If a holiday clinic session is cancelled due to extenuating circumstances beyond our control, we will attempt to offer alternative methods of delivery of the session, potentially with different dates, locations, or formats than originally planned. A holiday clinic session is considered to have been delivered and missed by you in the event whereby we have offered alternatives and you have failed to attend where it was reasonable for you to do so. In the unlikely event we are unable to offer alternative methods of delivery of a session, we will provide you with a credit voucher proportionately equivalent to the value of the cancelled holiday clinic session. This credit voucher can be used toward any of our programs or any of the products in our sports store. The credit voucher must be used within 6 months of the original holiday clinic session that was cancelled.